Michael Portillo visits Coates & Seely
October 2022
Sunday with Michael Portillo
Taste of Britain: Coates & Seely a very sparkling success
Michael Portillo came to meet the Coates & Seely team and discuss the similarity of wine production in the North Hampshire Downs to the Champagne region.
Mr Portillo asked co-founder Nicholas Coates how it is possible to grow great wines in Southern England. Nicholas explained that it was largely to do with the similarity of the chalk downlands of England to the Champagne region. The soil type and the cool climate go together to make great Champagne and sparkling wines, such as Coates & Seely.
Even twenty years ago Coates & Seely's success would have been difficult to achieve but the relative warming over the last couple of decades has nudged the climate to the ideal for sparkling wine grape growth.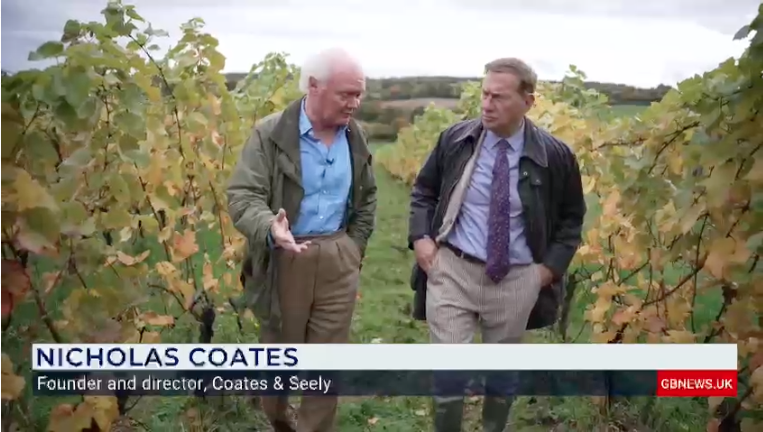 Nicholas went on to explain that the gentle slope and orientation of the Coates & Seely vineyards are key to the perfect ripening of the grapes towards the end of the season in September with the lower sun levels reaching and ripening all the grapes.
Nicholas introduced Michael to the Coates & Seely winemaker Andras Lorincz at the winery set in the heart of the Hampshire vineyards. As Nicholas explained the key thing with the recently pressed juices is that the sugars and acidity are in perfect balance and this year, a very hot, sweet year, brings an exciting complexity as well as harmony to the flavour of the wines.